Web Branding Solution for Leading Crane Manufacturing Company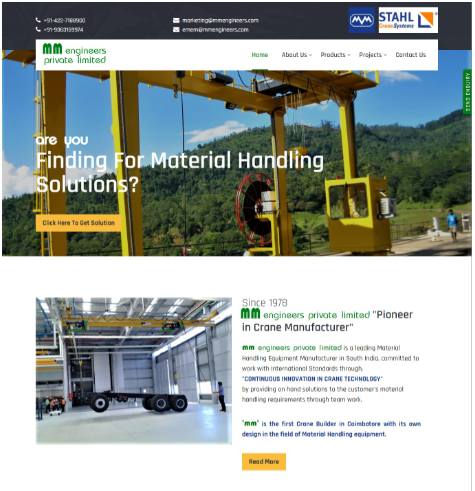 Client
MM Engineers Pvt Ltd is a leading Material Handling Equipment Manufacturer in South India and the first Crane Builder in Coimbatore with its own design in the field of Material Handling equipment. The website's homepage is prime for any business. It's one of the most critical pages of a site and needs to immediately capture the visitor's attention, clearly explain the business, and offer an obvious call-to-action that invites the visitor to take the desired next step.
Challenges
The client is having a strong consumer customer base throughout India and Overseas! So solid web presence is very essential to provide information to all with a clear and crisp manner. But the old Website design failed to satisfy the user needs in various aspects such as,
No Responsive Design
Poor Website Performance
Content Organizing lacks clarity
Design is very much outdated
More Products Images to be loaded in site
More Clients logo to show
Enquiry system is not solid
Not SEO Friendly site
The Solution
RMM used its own design framework more realistic and featured their products and services
We designed UI for highlighted their services and website constructed semi-dynamic mode
This ensures the DB interaction on-demand basis and performance of the Website is stunning all the time
We used the WEBP format for all images in this site instead of png/jpeg. So the site runs faster and gives the best performance
To help visitors to view all the services on the same page with all features and images
We used alternative designs (page) to showcase the client's logo with sliding mode. Looks very impressive and unique
The client can control their back end from DB and manage Ongoing projects Page, Clients Page and also can upload Projects images
We integrated with YouTube for dynamic videos in Website
Our unique, Intelli-Enquiry system was integrated with the Website to enable the rapid lead generation and receive accurate information from customers to reach them easily! To boost traffic, we used a self-pumping SEO approach to increase the traffic without any special work for SEO
The Result
The new MM Enigneers website is clean, polished, and more reflective of their innovative approach.
The website received good feedback from most of the visitors and enquiry system proved to be solid to handle the leads and customer info effectively.
The homepage of the website now fully expresses the MM Enginners services and their values that make them different from competitors. The new user-friendly design guides visitors through the website, while still offering a prominent 'Send Enquiry' call-to-action.
The analytical system integration helping the customer to spot the visitor requirements by seeing the video! Nothing more than seeing the real user browsing experience, right?!
Our self-pumping SEO model helped our customer to gain more traffic even during COVID times!
RMM is One of the top
Software Development Companies in Coimbatore
. Our customers tag us as best
Website development company in india
. The Website solutions offered to our clients are creative and complete! We have our own development division focusing on
ERP Software Development
for gearing up small businesses to go-cloud mode with mere IT investments. Our SaaS based products help them to achieve this very easily. We do
Mobile application development
and mobile business solutions compatible with both android and iOS platforms. RMM is having solid expertise in offering SharePoint solutions for both SharePoint On-premise and SharePoint Online versions.
SharePoint Online Development
is picking up over the globe for easy cloud platform setup for Organizations with an option of customization, this is a big plus!