Web Branding Solution for Leading Pump Manufacturing Company
Web Branding Solution for Leading Pump Manufacturing Company
Restructuring of Mahendra Pumps Website with more Award Winning Design in a very short time!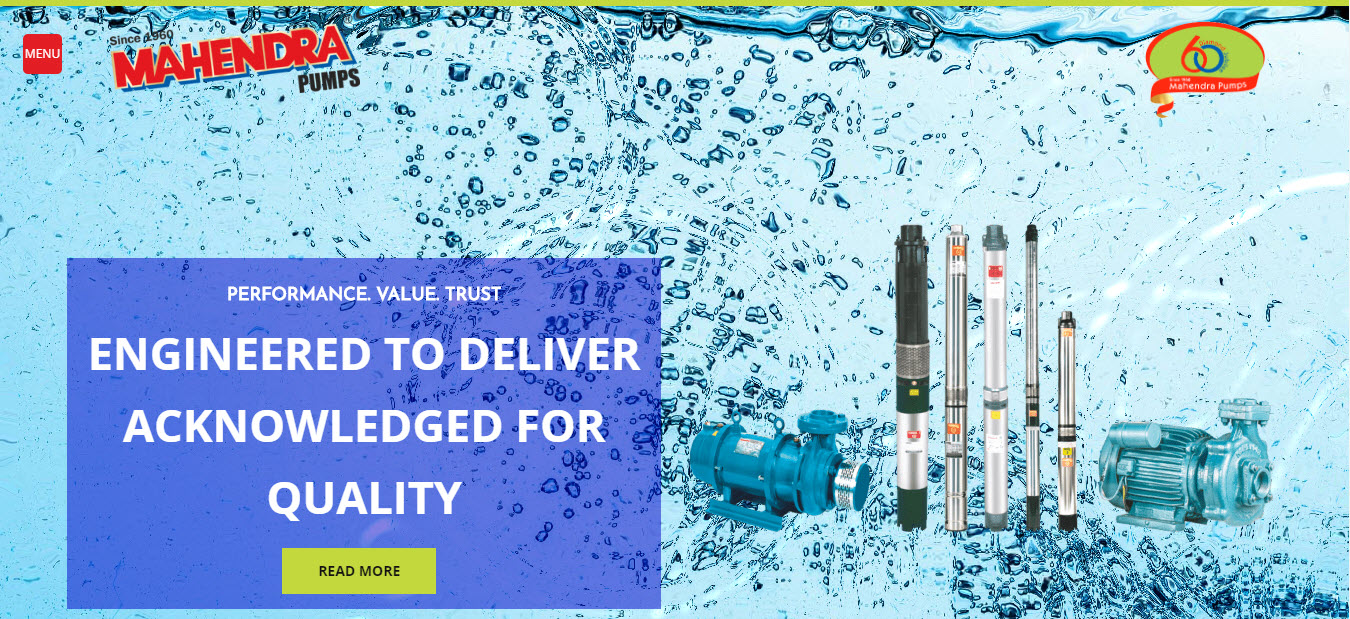 Client
Mahendra Pumps wears on its lapel 50 years of pioneering effort to sustain leadership in the motors and pumps marketplace. They launched their first business website in 2007 when they realized the role the internet can play in bringing more customers and making their business renowned, worldwide.
Challenges
The client is having a strong consumer and dealer network throughout India and Overseas! So solid web presence is very essential to provide information to all with a clear and crisp manner. But the old Website design failed to satisfy the user needs in various aspects such as,
No Responsive Design
Poor Website Performance
Content Organizing lacks clarity
Broken Navigation Links
Design is very much outdated
Enquiry system is not solid
The client also has a constraint of no special budget for SEO to pump the site traffic.
The Solution
RMM used its own design framework and BKM to pave the solution for this client challenge
The semi-minimalistic design was decided to employ for the design and pages are constructed with Semi-Dynamic mode
This ensures the DB interaction on-demand basis and performance of the Website is stunning all the time
Mobile responsive UI was given with a high-priority mode to ensure the look and feel of the site is the same in mobile devices like Desktop views
We also handled the UI to adapt to any kind of device, which is a flexible display
Contents were organized on the Product centric manner to make it a product-driven Website. To help visitors to view all the products on the same page, Product Index page was introduced, this was liked by many visitors and helped them to select the product of their need
Water-based design made the site look more pleasant and very interactive to give a feel of the wave the water effect. Consistency of design elements can be spotted in all places right from font to alignment of the Website
Our unique, Intelli-Enquiry system was integrated with the Website to enable the rapid lead generation and receive accurate information from customers to reach them easily! To boost traffic, we used a self-pumping SEO approach to increase the traffic without any special work for SEO
The Result
We used Agile methodology to complete the Website development in a very short span of time. This helped our customer to Go-Live and attract more customers.
The website received good feedback from most of the visitors and enquiry system proved to be solid to handle the leads and customer info effectively.
Half of the enquiries are landing from Mobile devices and the UI in a mobile device is intact and commanding!
The analytical system integration helping customer to spot the visitor requirements by seeing the video! Nothing more than seeing the real user browsing experience, right?!
Our self-pumping SEO model helped our customer to gain more traffic even during COVID times!
#BeatCOVID
RMM is One of the top
Software Development Companies in Coimbatore
. Our customers tag us as best
Website development company in india
. The Website solutions offered to our clients are creative and complete! We have our own development division focusing on
ERP Software Development
for gearing up small businesses to go-cloud mode with mere IT investments. Our SaaS based products help them to achieve this very easily. We do
Mobile application development
and mobile business solutions compatible with both android and iOS platforms. RMM is having solid expertise in offering SharePoint solutions for both SharePoint On-premise and SharePoint Online versions.
SharePoint Online Development
is picking up over the globe for easy cloud platform setup for Organizations with an option of customization, this is a big plus!